Blackwolf's Gallery, Episode Four!
Well, folks, enough silly stuff! Time for your humble Dragonmaster to share more of my favorite images for you --- before GeoCities vanishes for good on October 26th!
Ray Irving as Henry VIII, in ye olde Grumpye Olde Kynge Moede!
July 29th, 2000: DC Smith, 2000 Cap'n Kidd of those lovable
Seattle Seafair Pirates,
shares some grog with two wee shipmates! Arrrgh!
King Richard and Queen Eleanor, toasting their subjects at the
Kansas City Renaissance Festival!
Chesapeake Life Magazine
photographer Scott Suchman offers us this glimpse of
Crownsville's
own glorious Henry VIII, Fred Nelson!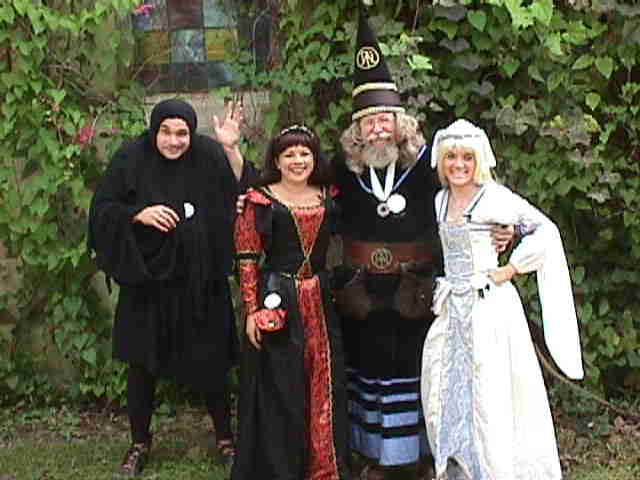 Our
Exalted Father of Magecraft,
and his last team at
Plantersville
: Jason Bennett (Igor), Kimberly Bennett (Nimue), and Jennifer Cerda (Morgan le Fay)!
Bill Foussard and Brooke Stoeckel, 2008
King Boreas and his Queen of the Snows,
moments after taking their icy Thrones!
And of course, here's Brooke in close-up, those two cute little happy tears sparkling as brightly as that shining tiara on top of her head!
Cyndryn, Barltok, Akio and Aradin, from the much-lamented
D&D Heroes
Xbox game.
Of course, your humble Dragonmaster wouldn't
dare
exclude this lovely lady from me Gallery:
Firiona, baby! (Drool, drool, drool!)
Strum, strum, strum! Twee, twee, twee! Hawke and Cedric ---
the Bedlam Bards
--- making music their way, as ever.
Sir Thomas Fludd, from the
Guild of St. Ambrose!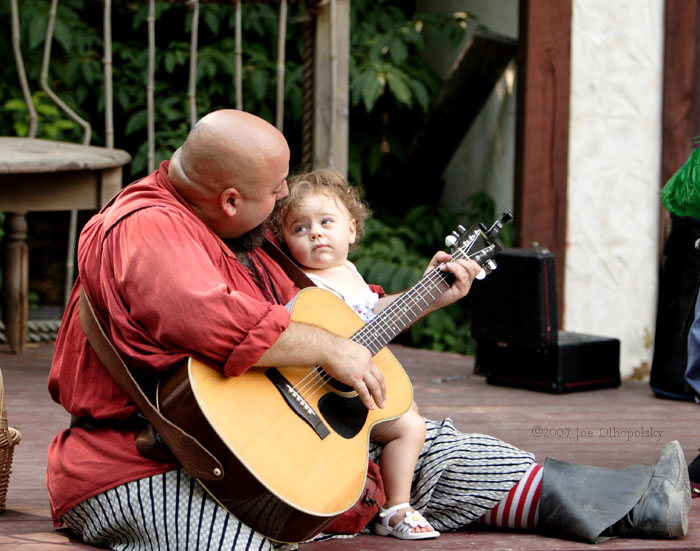 Joe Dlhopolsky
's classic portrait of Crossbones McCoy (Lionel Rutland) from the
Crimson Pirates,
displaying a more tender-hearted side, as he strums on his guitar for a wee shipmate.
Their Majesties,
King Erik and Queen Clara of Himmelsk
, happily enthroned and pleased to welcome all to their Realm. As you see by the words printed 'bove Their Majesties' heads, Himmelsk is at present touring the Planet, with a view toward returning next year. As ever, stay ye tun'd!
And that, dearests, is as far as I dare for now. Much more to come, of course!